Mon, 10/21/2019

(COLUMBIA, SC) -South Carolina joins state charities regulators across the country, the National Association of State Charities Officials (NASCO) and the Federal Trade Commission to announce the second annual International Charity Fraud Awareness Week (ICFAW) from October 21 to 25, 2019. ICFAW is a coordinated international campaign to help charities and consumers avoid charity fraud and promote wise giving.
South Carolina Secretary of State Mark Hammond and other U.S. partners are joining the Charities Commission for England & Wales, which for many years has hosted its own Charity Fraud Awareness Week. In addition, the Australian Charities and Not-for-profits Commission, the Charity Commission for Northern Ireland, the New Zealand Charities Service, and the Office of the Scottish Regulator are also joining in the international outreach effort.  Key non-governmental participants include Chartered Accountants Worldwide, the UK's Fraud Advisory Panel, and international charities Oxfam, British Council and Amnesty International.
"In the age of the Internet, generosity is no longer limited by geographical boundaries," said Secretary Hammond. "Unfortunately, neither is charity fraud.  I'm proud to join our national and international partners in promoting International Charity Fraud Awareness Week, and encourage all people to do their research before making a charitable donatio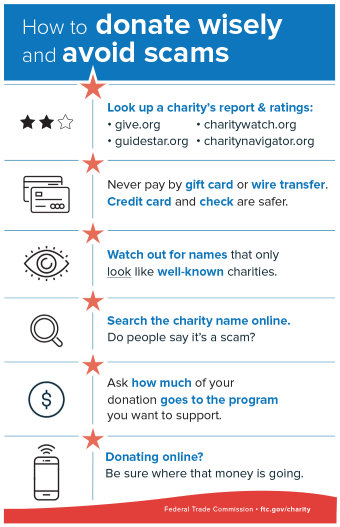 n."
Resources for Consumer
When you donate, you want your money to go to a charity that really helps make a difference. Many reputable charities are deserving of support. South Carolina has a brochure on how to help individuals and businesses find reputable organizations and give wisely.  Watch the FTC's video "Make Your Donations Count" and remember to:
Do your research:
Search the charity's name online with words like "complaint" and "scam."
What about donation requests through social media and crowdfunding sites?
Many requests for donations through social media and crowdfunding sites are legitimate, but some are scams. For example, there are people who misuse real pictures and stories to get you to donate, but the money goes into their own pockets. Some fraudsters have even hijacked links to legitimate charities on social media and pocketed donations made via those links. Crowdfunding sites often have little control over who uses them and how donations are spent. Research before you give. Also, if tax deductions are important to you, remember that donations to individuals are not tax-deductible.
The safest way to give on social media or through crowdfunding is to donate to people you actually know who contact you about a specific project. Don't assume that solicitations on social media or crowdfunding sites are legitimate – even when they are shared or liked by your friends.  If you want to donate to a charity promoted in social media or on a crowdfunding site, don't forget that you can always go directly to the charity's website and donate that way.  Do your own research. Call or contact your friends offline and ask them about the post they shared.
Report Your Concerns to the Secretary of State
If you have concerns about a charity, you can file a confidential complaint with the Secretary of State's Office by using the Online Charitable Solicitation Complaint Form.  The form is available on the Secretary of State's website. You can also call the Division of Public Charities at 1-888-CHARITI (242-7484).
###